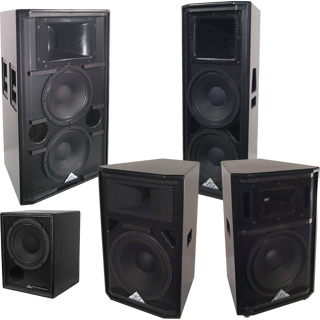 GT Series-Full Range
This line-up of the GT Series combines high SPL and high Q to meet the demands of performance in touring, rental and club applications.
The choice of horn patterns includes 90° x 40° and 60° x 40° where high Q capabilities are required. These models perform well in clusters for that wide and full array dynamic sound.
All models are available with optional fly hardware. Three standard finishes available: black, white or natural (ready to stain). Many models are available with optional biamp capability.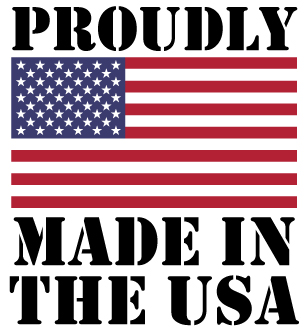 Expand Details

Model
Number
Drivers
Frequency
Response
Sensitivity
Watt /
ohm
Dispersion
H / V
Dimensions
H x W x D
GT-871
LF: 8" Cone
HF: 1" Compression Driver
HF:70° x 70°
80 Hz - 17 kHz
98 dB SPL
150 / 8 Ω
70° / 70°
15.50 × 11.75 × 11.88
GT-1071
LF: 10" Cone
HF: 1" Compression Driver
HF:58-005
70 Hz - 17 kHz
98 dB SPL
250 / 8 Ω
90° / 40°
18.75 × 12.50 × 12.75
GT-1510
LF: 15" Cone
HF: 1" Compression Driver
40 Hz - 16 kHz
98 dB SPL
400 / 8 Ω
120° / 40°/50°/90°
28.75 × 18.50 × 18.50
GT-1520
LF: 15" Cone
HF: 2" Compression Driver
40 Hz - 18 kHz
99 dB SPL
400 / 8 Ω
90° / 40°
28.75 × 18.50 × 18.50
GT-1526
LF: 15" Cone
HF: 2" Compression Driver
40 Hz - 18 kHz
103 dB SPL
400 / 8 Ω
60° / 40°
28.75 × 18.50 × 18.50
GT-3020
LF: 2 × 15" Cone
HF: 2" Compression Driver
40 Hz - 16 kHz
101 dB SPL
900 / 4 Ω
90° / 40°
44.00 × 19.00 × 22.25
GT-3026
LF: 2 × 15" Cone
HF: 2" Compression Driver
40 Hz - 16 kHz
101 dB SPL
900 / 4 Ω
60° / 40°
44.00 × 19.00 × 22.25
GT-871X
LF: 8" Cone
HF: 1" Compression Driver
60 Hz - 17 kHz
95 dB SPL
100 / 8 Ω
80° / 80°
12.75 × 10.50 × 10.00
GT-1210C
LF: 12" Cone
HF: 1" Compression Driver
60 Hz - 19 kHz
103 dB SPL
300 / 8 Ω
120° / 40°/50°/90°
23.75 × 15.88 × 15.75
GT-1220A
LF: 12" Cone
HF: 2" Compression Driver
50 Hz - 16 kHz
101 dB SPL
400 / 8 Ω
90° / 40°
28.75 × 16.00 × 15.75
GT-1220C
LF: 12" Cone
HF: 2" Compression Driver
60 Hz - 16 kHz
100 dB SPL
400 / 8 Ω
80° / 40°
23.75 × 15.75 × 15.75
GT-1226A
LF: 12" Cone
HF: 2" Compression Driver
50 Hz - 16 kHz
101 dB SPL
400 / 8 Ω
60° / 40°
28.75 × 16.00 × 15.75
GT-2420C
LF: 2 × 12" Cone
HF: 2" Compression Driver
40 Hz - 16 kHz
101 dB SPL
800 / 4 Ω
90° / 40°
37.75 × 19.00 × 22.25
GT-2426C
LF: 2 × 12" Cone
HF: 2" Compression Driver
40 Hz - 16 kHz
101 dB SPL
800 / 4 Ω
60° / 40°
37.75 × 19.00 × 22.25

Home |

Literature Request |

Contact Us |

Legal

Grundorf Cases & Racks Home Page
Copyright © 1996-2017 Grundorf Corporation. All Rights Reserved