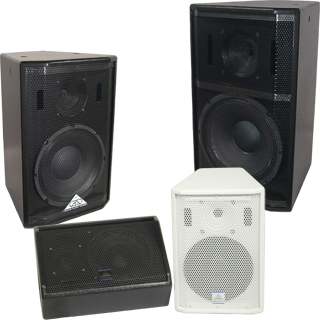 GT 01 Series
Grund Audio '01' Series loudspeakers are optimized for use in houses of worship and other fixed installations as well as being ideal for corporate presentations, meeting and other special events.
All models in the '01' Series utilize 2-way designs with a horn (with the exception of the GT-5301, a 3-way system). Flat frequency response, low distortion, and wide dynamic range are the key attributes of the GT '01' Series. These enclosures are manufactured from 13-ply birch, and are available in black or white finishes as well as unfinished that can be stained or painted to one's preferences.
All models utilize a horn that is made from 13-ply birch and carved out of the baffle board. These systems utilize a 90° circular horn pattern where a wide energy spectrum is required—enabling these loudspeakers to provide optimized coverage throughout the space. The horn is strictly a wave device. There is no throat loading, which can induce distortion—effectively delivering the purist sound quality physically possible, with quick and accurate focusing of the high frequencies.
The Grund Audio Design GT '01' Series loudspeakers perform well in clusters for that wide and full array dynamic sound—and mounting / installing these systems is accomplished by the availability of Grund Audio Design's various hardware options. All models can be outfitted with U-brackets, a swivel wall mount, or 3/8"-16 threaded mounting points, enabling installers to position these loudspeakers in a manner that delivers optimized sound quality and the ability to best incorporate the enclosures into the space aesthetically.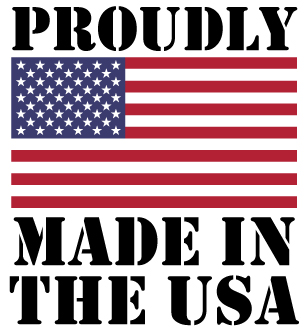 Expand Details

Model
Number
Drivers
Frequency
Response
Sensitivity
Watt /
ohm
Dispersion
H / V
Dimensions
H x W x D
GT-601
LF: 6" Cone
HF: 1" Compression Driver
65 Hz - 20 kHz
95 dB SPL
100 / 8 Ω
90° / 90°
11.75 × 8.88 × 8.75
GT-801
LF: 8" Cone
HF: 1" Compression Driver
80 Hz - 19.5 kHz
97 dB SPL
150 / 8 Ω
90° / 90°
15.50 × 10.75 × 10.75
GT-1001
LF: 10" Cone
HF: 1" Compression Driver
64 Hz - 19 kHz
98 dB SPL
250 / 8 Ω
90° / 90°
18.75 × 12.75 × 12.75
GT-1201
LF: 12" Cone
HF: 1" Compression Driver
50 Hz - 18 kHz
98 dB SPL
350 / 8 Ω
90° / 90°
23.50 × 14.75 × 14.75
GT-1202
LF: 12" Cone
HF: 2" Compression
50 Hz - 18 kHz
99 dB SPL
400 / 8 Ω
90° / 90°
23.50 × 14.75 × 14.75
GT-1601
LF: 2 × 8" Cone
HF: 1" Compression Driver
55 Hz - 19 kHz
101 dB SPL
400 / 4 Ω
90° / 90°
23.75 × 12.00 × 11.75
GT-2002
LF: 2 × 10" Cone
HF: 2" Compression
50 Hz - 18 kHz
101 dB SPL
600 / 4 Ω
90° / 90°
28.75 × 12.75 × 12.75
GT-2301
LF: 12" Cone
MF: 5" Cone
HF: 1" Compression Driver
50 Hz - 18 kHz
99 dB SPL
350 / 8 Ω
90° / 90°
23.50 × 14.75 × 14.75
GT-5301
LF: 15" Cone
MF: 6" Cone
HF: 1" Compression Driver
40 Hz - 19.5 kHz
99 dB SPL
350 / 8 Ω
90° / 90°
28.75 × 18.50 × 18.50
GT-801M
LF: 8" Cone
HF: 1" Compression Driver
80 Hz - 19.5 kHz
97 dB SPL
150 / 8 Ω
90° / 90°
10.75 × 15.50 × 9.75
GT-1001M
LF: 10" Cone
HF: 1" Compression Driver
60 Hz - 18.5 kHz
99 dB SPL
250 / 8 Ω
90° / 90°
12.63 × 18.75 × 11.75
GT-1201M
LF: 12" Cone
HF: 1" Compression Driver
50 Hz - 18 kHz
99 dB SPL
400 / 8 Ω
90° / 90°
13.25 × 23.75 × 14.25
GT-1202M
LF: 12" Cone
HF: 2" Compression Driver
50 Hz - 18 kHz
101 dB SPL
400 / 8 Ω
90° / 90°
13.25 × 23.75 × 14.25
GT-1502M
LF: 15" Cone
HF: 2" Compression
40 Hz - 18 kHz
99 dB SPL
400 / 8 Ω
90° / 90°
18.25 × 28.75 × 16.88
GT-1601M
LF: 2 × 8" Cone
HF: 1" Compression Driver
55 Hz - 19 kHz
101 dB SPL
400 / 4 Ω
90° / 90°
10.75 × 23.50 × 9.75

Home |

Literature Request |

Contact Us |

Legal

Grundorf Cases & Racks Home Page
Copyright © 1996-2017 Grundorf Corporation. All Rights Reserved