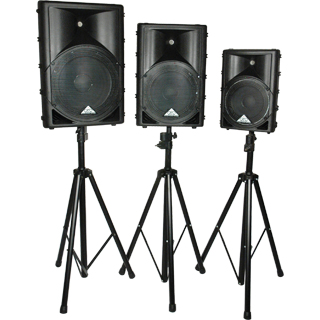 GP Series
The GP Series is one of the most versatile series of speakers in the Grund Audio line-up. These self-powered cabinets make perfect self-contained systems for fast and inexpensive setups.
The reinforced, ribbed, two-piece mold design provides a non-flexing, low-resonant cabinet. The GP-10A, GP-12A, and GP-15A models are equipped with removable feet for positioning the cabinet in a floor monitor application. The cabinets have multiple mounting points for the feet providing mirror imaging capabilities. The GP-08A may also be used as a floor monitor but does not require the feet. Also, each model is equipped with a tension-adjustable stand mount design to eliminate leaning and for added strength when used on tripod stands or satellite poles. The GP Series cabinets are well suited for stacking with top cups and bottom feet. Additionally, these models are equipped with 4 fly points for permanent installation applications.
The GP Series amplifiers have external heat sink cooling fins. The main power supply uses a toroidal transformer to maintain high-quality tonality, stabilize bandwidth, and minimize the noise floor. An internal cooling fan is used to prevent air leakage that can cause detuning of the box, while also maintaining temperature control of the amplifier allowing it to run for hours of sustained use.
Voicing the microphone has never been easier. There is a mic and line level input allowing a mic to be plugged in direct, or for adding an external mixer or other audio device. When using the option of hooking up a mic line directly into the GP Series, the built-in sensitivity control and the 2-band equalizer allow flexibility and personal control of the critical frequencies for vocal optimization.
Check out the "less noise" knob! The GP Series has a sensitivity knob to allow for the matching of the sensitivity levels on a variety of mixers. Additionally, the GP Series cabinet's XLR thru connections allow you to chain the boxes together while maintaining a full signal from each cabinet.
The GP Series speakers may be pole-mounted for use as a small, full-range, portable PA system or installed PA. A subwoofer may be added for additional low-end support. These speakers are equally adaptable as high-quality floor monitors.
These units are ideal for vocal and instrument reproduction, floor monitoring, or side-fills. This series is suitable for clubs, DJ's, live band, house of worship, corporate A/V, and educational facilities and anywhere a high-quality, self-contained portable PA is required.
Power up your Performance!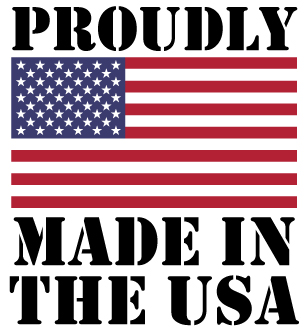 Expand Details

Model
Number
Drivers
Frequency
Response
Sensitivity
Watt /
ohm
Dispersion
H / V
Dimensions
H x W x D
GP-08A
LF: 8" Cone
HF: 1" Compression Driver
55 Hz - 20 kHz
95 dB SPL
200 / 8 Ω
90° / 60°
17.25 × 11.50 × 9.00
GP-10A
LF: 10" Cone
HF: 1" Compression Driver
51 Hz - 20 kHz
97 dB SPL
300 / 8 Ω
90° / 60°
20.25 × 14.19 × 10.75
GP-12A
LF: 12" Cone
HF: 1" Compression Driver
47 Hz - 20 kHz
98 dB SPL
400 / 8 Ω
90° / 60°
23.50 × 16.50 × 12.75
GP-15A
LF: 15" Cone
HF: 1" Compression Driver
42 Hz - 20 kHz
100 dB SPL
600 / 8 Ω
90° / 60°
27.00 × 18.50 × 15.75

Home |

Literature Request |

Contact Us |

Legal

Grundorf Cases & Racks Home Page
Copyright © 1996-2017 Grundorf Corporation. All Rights Reserved